At AIWA's October General Meeting, the author Colucci COLUCCI spoke about changing the world through her writing.  How can you change the world?  Word by word!
Her mission is to bring more cross-cultural and multi-ethnic understanding to the world through her novels: The Strings of the Lute and She's Like a Rainbow. As an American who has lived in Rabat for 38 years, Ms. COLUCCI drew on her personal experiences to explore the tensions and harmonies that result when contrasting cultures, religions, and ethnicities meet.
The audience enjoyed the discussion on her books and learned more about AIWA's upcoming events and ongoing activities.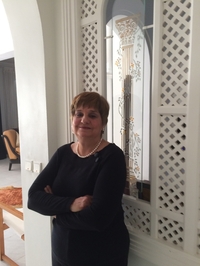 Date: 10 October 2017
Time: 5:30 – 7:30 pm
Place: Megamall, Lower level, large meeting room