Saturday 14 and Sunday 15 March: From 10:30 am to 7:00 pm – at Mega Mall – Salle polyvalente – Entrée 4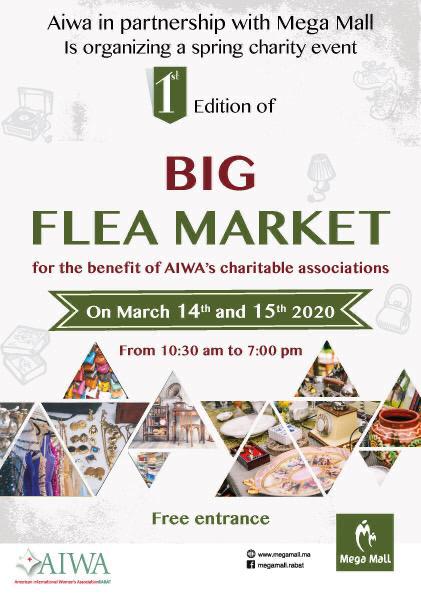 Aiwa in partnership with Mega Mall organizes a two days event, the 1st flea market for the benefit of its charities works.
The vendors can reserve a table to sell second-hand items such as household goods, evening clothes, handbags, shoes, toys/children's clothing, embroidery, table cloths and napkin sets, carpets, china, glassware, etc.
The price for a table is 500 dirhams for members and 600 dirhams for the public. Members have the first chance to reserve a table(s) until Friday. After Friday, reservations will be opened up to the public.
To reserve your table(s), please email one of our committee leaders: Edwina at ehassaoui2@hotmail.com, Oumnia at amani.kenz@gmail.com, or Nancy at nancy.slaoui@gmail.com. Those reserving a table(s) can come to Mega Mall, Cozy Cafe, upper level, to pay on Monday, March 2nd from 2:30-3:30 pm, Wednesday, March 4th from 3:00-4:00 pm, or Friday, March 6th from 3:00-4:00 pm.
All vendors must bring bags for the customers' purchases, cover their table(s) with white table cloth(s), and bring 2-3,000 dirhams of change. AIWA will not provide change.
In addition, we will be having an AIWA table managed by Zahra Mouhsine. If you have items you would like to donate, please contact Zahra at zahramouhsine@gmail.com.
There will be music and a daily tombola drawing.
Free entrance.