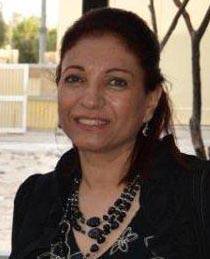 Our guest speaker, Ms Mahasen ALMAHASNEH, will speak on "Integrative Nutrition an Energy Healing".
She is a Jordanian who grew up in a German boarding school in Palestine. She has lived in Jordan, Yemen, USA, Greece, Qatar, United Arab Emirates and now in Rabat.
Educational background: BA in Englishand /Education, University of Jordan, Masters in Higher Education, University of Louisville, USA, Certified Health Coach, Institute of Integrative Nutrition, USA.
Professional Background: Jordanian Ministry of Higher Education, Cultural Counselor at the Jordanian Embassy in Athens, Manager of translation project in Qatar and an Advisor to an Emarati University.
During the last 10 years, she developed an interest in "Integrative Nutrition and Energy Healing" and went to New York where she obtained a certificate in this field. Now she uses a bio-energy machine detecting the imbalances in body, mind and spirit. In 2013 she wrote a book in Arabic about energy healing: أسرار العلاج بالطاقة
Date: April 10th
Where: Megamall in the small meeting room next to the candy store (My Candy)
Time:  11 :00 am